You can specialize in the fields you are interested in while you continue your journey as a diver. For some divers, diving is more than being under the water… If you feel the same and you are interested in different dive environments and activities, then there is definitely a Specialty course for you! There are 28 PADI Specialty courses and we are authorized to teach all of them. But it is very hard to explain all of them, so here are the most popular specialty courses:

Deep Diver Specialty: Recommended maximum depth for recreational divers is 30 m/90 ft. The reason for this limit is the increased risk of gas narcosis and decompression sickness. Therefore, diving below 30 m/90 ft until 40 m/120 ft is a special diving activity. This activity requires specific training. If you are attacked by the depth and you are a PADI Advanced Open Water Diver, you must consider this course. This course will teach you the risks and necessary precautions that should be taken while deep diving and how to enjoy depths with safety and awareness. There are 4 required open water dives to complete this course, so a weekend trip would be enough to finish it. It is a must-course if you want to explore the mysteries of depth safely.

Wreck Diver Specialty: If you are not satisfied with just swimming around the wrecks, then you are a good candidate to become a Wreck Diver. Wrecks have their own characteristics, risks, and habitat. For those who want to explore them in-depth and make safe penetrations, the wreck diver certification card is required. Especially, the ones who are interested in the history of the wrecks and who want to explore the wreck by swimming inside and observing the aquatic life on wrecks should definitely take this course. If you are a PADI Advanced Open Water Diver, you can attend this course and learn to evaluate different aspects of the wrecks, examine their locations, and entry and exit procedures. There are 4 required open water dives to complete this course, so you can become a Wreck Diver on a weekend trip.

Night Diver Specialty: Would you be interested in observing nocturnal species and seeing how fish sleep at night? If your answer is yes, you will love our Night Diver course. To enjoy diving at night, the divers should be aware of the unique risks of night diving and take the necessary precautions. We teach you all that in the course. If you are a beginner-level diver (or higher), you can attend to our night diver course. There are 3 required open water dives to complete this course, so a weekend trip will be enough to earn your internationally recognized certification card.

Enriched Air Diver Specialty: While scuba diving, we breathe compressed air. And the oxygen and nitrogen inside the air affect our dive depth and time. For example, nitrogen may cause decompression sickness at certain depths within a certain period of time, so the divers should never exceed dive limits. This is how we prevent decompression sickness (DCS). But, is there a way to spend more time underwater and prevent DCS? If you dive with enriched air, the answer is yes! As the name indicates, with a more enriched mix, i.e. higher oxygen percentage in the cylinder, you can safely enjoy being underwater longer. Besides, you can attend this course right after your Open Water Diver course and there are no required open water dives, so you can earn your certification card with short independent study and classroom sessions! Enriched air is very popular in tropical dive sites (like the Red Sea), so taking this course can be a good investment for your future dive travels.

Underwater Photography Specialty: We are all photographers these days :) With the new technologies, we can capture our happy moments and take great pictures with even a smartphone. Why don't we do the same while diving? Light behaves differently underwater, so taking pictures underwater needs special training. You can begin with trial and error, but if you want to speed up your learning process and have good results, you should consider taking this course. Open Water or higher level divers can attend the course, and since the course has only 2 required open water dives, you can complete the course in one day of a diving trip, and on the other days you can apply what you have learned or start a new course!

Equipment Specialist: Would you be interested in maintaining your own equipment? Or maybe you don't have your own equipment yet, but you like to learn more about how the diving equipment works. Then we have the right course for you. This is one of PADI's most educational courses and a right suit for people who are into technical stuff. Open Water Diver (and above) can attend the course, and the course takes place in the classroom and technical service. You will learn a lot and you can apply what you have learned to fulfill the simple service and maintenance needs of your own equipment.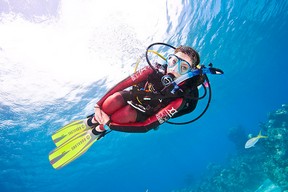 Peak Performance Buoyancy Specialty: If someone would ask "What is the most important skill for scuba diving?" the answer would most probably be "to maintain buoyancy". Because no matter what you do underwater, while swimming, observing aquatic life, taking photos, you always need to have good buoyancy. This will help you to stay away from animals and objects, so you wouldn't harm anything or got injured. Or you can take better pictures underwater. That's why this course is an invaluable course. The minimum certification requirement is Open Water Diver and there are only 2 open water dives for this course. So, you can complete this course in one day and you can even start another course on the second day of the trip.

Search and Recovery Specialty: Did you know that finding missing objects and bringing them to the surface is an activity in itself? Finding and bringing valuable objects (like ship anchors) require using many advanced skills at the same time. The course which will teach these skills and increase your knowledge is Search and Recovery Specialty course. There are 4 required open water dives in this course and Advanced Open Water Diver certification is the minimum certification requirement. You can complete the course and become a PADI Search and Recovery Diver on one weekend trip.

Underwater Navigator Specialty: To navigate underwater you need to know two things: Which direction to go and how far to go… And knowing these require a serious background. This specialty course teaches different navigation and distance estimation techniques and advanced navigation tools which will help you to find your way even in high turbidity. If you are an Open Water or higher level diver, you can complete 3 required open water dives of this course and earn your certification on one weekend.

Fish Identification Specialty: Who knows how many octopi, groupers, moray eels you have been passed by and haven't noticed… And who knows what creatures live underwater that we haven't heard of or know nothing about their lives… If you asked yourself these questions, then we have a course for you. If you are interested in aquatic life, its habitat, and its biological properties, this course will teach you all of these. And with the help of what you have learned, you can easily differentiate disguised creatures or know the difference between a piece of rock and a coral on it! The beginner's level certification is required to attend this course and there are only 2 open water dives. So you can complete the course in one day and enjoy the rest of your diving holiday.

Project AWARE Specialty: We can guess the damage we, as humans, cause to nature. But if you are a nature lover, knowing the importance of the oceans to the earth, what are the exact effects of the damage on our oceans, and how we can minimize these effects are crucial. If you agree, then come and join us in this course. And you don't need to be a diver to attend! Everyone who loves nature and oceans can attend this course. But if you are a diver, you will also learn how to minimize your negative impact on oceans by improving your diving skills. This course can be completed by independent study and classroom sessions, and the certification you will receive at the end of the course will turn into a donation to PADI's Project AWARE Foundation.

PRICE
Course price per specialty is - TL and training material and certification fee per specialty is - TL. If the specialty course you choose has required open water dives, you can attend one of our diving trips, complete the course, and earn your certificate. Please contact us for detailed information about the course content.
Specialty photos: padi.com